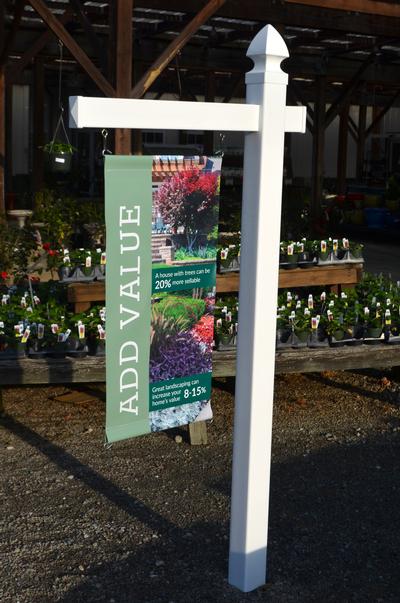 The sign post has been designed to hang signs up to 2' wide. The sign shown above is one of our 18" x 36" double sided vinyl banners with pole sleeves.
6' Vinyl Banner Sign Post
Quick Overview
The patent pending internal key makes assembly and disassembly of our 6' Vinyl Sign Post fast and easy. It also gives the sign post a clean smooth look because there are no external screws needed to hold the sign arm in place. Installation is especially easy with our Power Ground Stake(included).
(Sign is NOT included)
More Details for 6' Vinyl Banner Sign Post
Sign Width
Holes are pre-drilled on the bottom of the arm so you can connect the supplied mounting clips at the proper width to support signs up to 2' wide. Both our double sided 24"x36" signs and double sided 18"x36" vinyl banners work great with this sign holder.
Made To Last
Our sign post is made out of commercial grade vinyl so that stays a bright, even white for years
The Arm is reinforced for extra strength.
The included mounting hooks help keeps the sign securely attached to the arm
Clips designed to hold up to 40 pounds