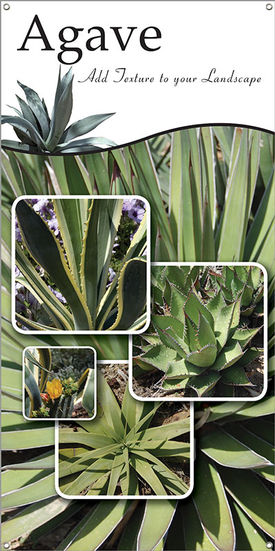 SUBMIT A REVIEW!
Submit a review for Agave 18"x36" VINYL Double Sided banner w/Pole Sleeves

Agave 18"x36" VINYL Double Sided banner w/Pole Sleeves
18-inch x 36-inch Agave banner printed Double sided on Vinyl with 2 pole sleeves.
Vinyl Banners
18 oz. vinyl is strong, waterproof, and fade-resistant making it the perfect material for outdoor or indoor signage. Vinyl is flexible so, when not in use, it can be rolled up and stored easily. All of our vinyl banners have a blockout layer between the two sides to prevent light from shinning through. This ensures the banner looks great great even with bright light shinning from behind. See example of blockout layer in action.
Double Sided
Double sided banners have the same image printed on both sides. Banners printed double sided are great for high traffic areas, enabling one sign to do twice the work.
Pole Sleeve
Pole sleeves enable the banner to be easily hung between two horizontal poles. Max pole diameter to fit in the sleeve is 1.5 inches.

HURRY! Black Friday 40% Savings Sale ends on Saturday, November 27th. 
Also check out these great complimentary products!