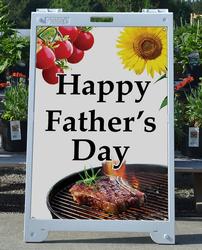 Holiday Signs and Sign Holders
Save 25% on Coroplast through June 30th!
Welcome your customers to your garden center on special days with the following holiday signs. If you use one of the A-Frame Sign holders you can put a 'Shop Local', 'Thank You' or depending on the location, you may want to have the same Holiday Sign on both sides of the A-frame. Of course, we can also design a custom sign to meet your specific requirements.
Save on Shipping:
Our custom boxes hold up to seventeen 24"x36" coroplast signs, so the 2nd - 17th signs ship for next to nothing, so order future holidays now to save on shipping.
Please scroll to the bottom to see all the signs and the various sign holders we offer. Thanks!
Sale ends June 16th.